The Sussex County Department of Health and Human Services invites you to attend the Opioid Epidemic Symposium. This symposium will provide information for Sussex County Residents concerned about the Where/How/When to obtain services.
Overview of Services and Providers of Opioid Use Disorder Treatment
Information on Prevention Activities in Sussex County
Connections to Service Providers
What We Can Do to Stem the Tide of the Opioid Epidemic
Doors open at 6:30PM and the program will begin at 7:00PM. Light refreshments will be served. Attendance is free and no registration is required. There are three separate dates and locations where the symposiums will be held.
Thursday, October 17th at Newton High School, 44 Ryerson Avenue, Newton
Wednesday, October 23rd at Wallkill Valley Regional High School, 10 Grumm Road, Hamburg
Monday, October 28th at Lenape Valley Regional High School, 28 Sparta Road, Stanhope
Come find out what is being done in Sussex County and how you can help.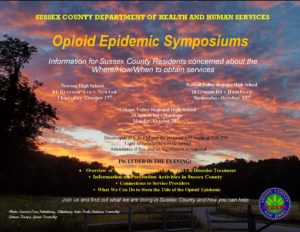 opioid symposium flyer