About the Mayor and Council
Click Here for Recent and Archived Meeting Minutes
TAKE NOTICE that the Mayor and Council of the Borough of Stanhope, in compliance with the Open Public Meetings Act, N.J.S.A. 10:4-1 et.seq., hereby announces that the remainder of their 2021 Work Session/Agenda and Regular Business Meetings included in their annual meeting notice to be held on the dates listed below, will be held at the Municipal Building, 77 Main Street, Stanhope, New Jersey. All meetings shall convene at 7:00 p.m., with the exception of July 27th which will begin at 6:00PM. All meetings shall be opened to the public and public participation will be entertained at all meetings. Official action may be taken at all meetings. 
Work Session/Agenda Meetings  (First Meeting of the Month)                  
July 13                               October 12
August 10                         November 9
September 14
Regular Business Meetings  (Second Meeting of the Month)
June 22                                        October 26
**July 27 (6:00PM Start)          November 23
August 24                                   December 14
September 28
TAKE FURTHER NOTICE that the Annual Reorganization Meeting shall be held on January 4, 2022, 7:00p.m.
Ellen Horak, RMC
Borough Clerk
Mayor & Council News
On November 24, 2020 the local Girl Scout Troop attended the Mayor and Council Business Meeting to see first hand how municipal government meetings are conducted. The Mayor & Council enjoyed the opportunity to meet and speak with the girls from the troop.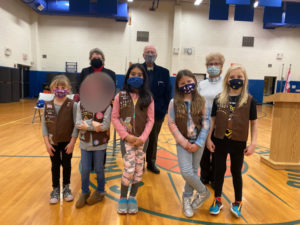 ---