Board of Health
Thomas Romano, Vice President
Monique McNeilly, Secretary
Paula Zeliff-Murphy
John Savino
Rosemarie Maio
Diana Kuncken
Email: health@stanhopenj.gov
STANHOPE BOARD OF HEALTH
NOTICE OF MEETINGS
TAKE NOTICE the Board of Health of the Borough of Stanhope has scheduled the following meeting dates for 2021:
February 10, March 10, April 14, May 12, June 9, September 8, October 13, November 10, December 8, and January 12, 2022 reorganization/regular meeting. All meetings will to be held at 7:00 P.M. at the Municipal Building, 77 Main Street, Stanhope, New Jersey.
Monique McNeilly, Secretary
Flu Clinics/Covid Vaccines/Women's Health Screenings & Child Health Clinics
The Sussex County Division of Health, Office of Public Health Nursing, has multiple clinics scheduled for the coming months. They are providing Flu Clinics, Covid-19 Vaccines, Women's Health Screenings, Well Child Clinic (complete physical exams, screenings, and age appropriate immunizations for children from 0-5 years old), and Free Vaccines.
Click Here for Link to the Sussex County Division of Health Website
The Sussex County Office of Public Health Nursing can be reached at 973-579-0570 Ext. 1211
Food Pantry Services and Home Delivery Services:
Need food pantry home delivery? The Hunger Coalition stakeholders and the Sussex County Human Services Advisory Council are collaborating to create a safe, efficient method of food distribution for those in Sussex County. 
Click Here for Food Pantry List
 NORWESCAP Pathways 2 Prosperity is offering food delivery services every Tuesday for those who are not able to drive or lack transportation.  To request delivery service please call 973-862-6680 or email morrisond@norwescap.org for further details.  For information regarding how you can contribute donations please contact Jennifer Salt at jsalt@zufallhealth.org.
St. Michael's Food Pantry (Route 46, Netcong)  – The St. Michael's Food Pantry serves residents in need from all area towns. The Food Pantry has re-opened and it is open every Friday from 9am-3pm and provides non-perishable foods, fresh produce each month and meats. Other assistance is also available. 
Mental Health & Addiction Help Related to COVID
Click Here To View/Print Mental Health/Addiction Flyers (English)
Click Here To View/Print Mental Health/Addiction Flyer (Spanish)
Sussex County Vaccine Information
Sussex County is now offering "Pop Up Vaccination Clinics" – As the demand for vaccine has declined, appointments for first dose vaccinations are no longer available at the Sussex County Fairgrounds vaccination site. Sussex County will be vaccinating residents at pop-up clinics at various locations throughout the County. 
Pop Up Clinics are being conducted by The Sussex County Division of Health for Free
Walk-Ins Welcome
No Appointment Required
Moderna and J&J Offered
18 Years and Older
Questions: 973 579-0570 x1211
Click Here for Locations, Schedule and Additional Information
Email the Sussex County Division of Health with any questions. The email address is:    covid@sussex.nj.us
Additional  COVID-19 Vaccine Information can be found at:  
https://covid19.nj.gov/pages/vaccine
Vaccine Information for Senior Citizens who need assistance to register for the vaccine or have transportation needs. (See Below)
Seniors who are unable to access the internet may call the Sussex County Division of Senior Services at 973-579-0555 for help registering for a vaccination appointment. 
Seniors in need of transportation to vaccination sites located throughout Sussex County can contact Skylands Ride at 973-579-0480 for assistance.  When possible, please contact Skylands Ride prior to registering for your COVID-19 vaccination so that transportation can be coordinated with your scheduled vaccination date.
Seniors who have questions related to COVID19 may call the Sussex County COVID Hotline Monday through Friday 9 am to 4 pm at  973-579-9488. 
Email the Sussex County Division of Health with any questions. The email address is:    covid@sussex.nj.us
Additional  COVID-19 Vaccine Information can be found at:  
https://covid19.nj.gov/pages/vaccine
Information Regarding Antibody Testing
Current Testing Site Information
https://covid19.nj.gov/
Click Box "Get Tested"
On next page scroll to bottom and enter zip code.
Map shows locations to receive a test.
Also note below "COVID Test At-Home"
There are 2 choices now:
PIXEL (Labcorp)
https://www.pixel.labcorp.com/at-home-test-kits/covid-19-test
VAULT
https://www.vaulthealth.com/checkout/covid-whose-test
Borough Advisory Message:
Preventing Backups – Think Before You Flush!
Unlike toilet paper, these materials cannot disintegrate properly, which can clog sewer pipes, cause sewer line breaks, and put a strain on our local wastewater treatment facility. Even "flushable" wipes can lead to sewer backups.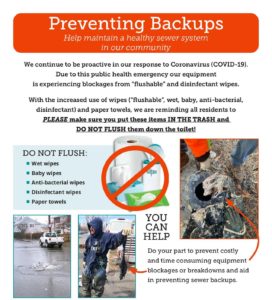 Never flush these items down the drain – put them in the trash instead:
Baby/facial/cleaning wipes
Personal care products
Medication
Hair
Dental floss
Cotton swabs/balls
Bandages
Rags & Towels
Rubber Items (like latex gloves)
Plastic Items
Paper towels
Tissues
*Please know that any blockage from the curb into the property is the responsibility of the homeowner and you are financially responsible for clearing the line.
Sussex County Department of Health Press Releases for September 23, 2022

Within Stanhope Borough, we have hit a very sad milestone of  over 1,000 positive cases of Covid. Please continue to do your best to stay safe and practice safety protocols.
9-23-22 COVID-19 Press Release
09-23-2022-Weekly Report
09-23-2022-LTCF Report
The Sussex County Health Department has reported that 1,121 Stanhope residents (as of September 23, 2022) have tested positive for the 2019 Novel Coronavirus.  We ask that you keep these residents and their families in your thoughts.
The Borough continues to closely monitor the situation within the community and will take appropriate actions as directed by the Sussex County Health Department and the State of New Jersey to mitigate the spread of the virus. 
Please continue to follow the CDC recommendations which include maintaining social distance, complying with hand hygiene practices and notifying your physician if you become ill with symptoms such as, but are not limited to, cough, fever and shortness of breath. 
Stay up to date on COVID-19 Information:
Center for Disease Control and Prevention: https://www.cdc.gov/coronavirus/2019-ncov/index.html
The CDC has updated their COVID-19 website, specifically the section on how to protect yourself:  https://www.cdc.gov/coronavirus/2019-ncov/prevent-getting-sick/prevention.html
NJ State COVID-19: https://covid19.nj.gov/
Sussex County COVID-19 Hotline
The Sussex County Division of Health COVID-19 Hotline is now open. Residents may call the Hotline number at 973-579-9488 to speak with a Sussex County Division of Health (SCDOH) staff member or Sussex County Medical Reserve Corp volunteer. The Hotline's hours of operation are Monday through Friday from 9:00am to 4:00pm.
Additional information for residents can be found on the SCDOH website: Sussex County Website https://sussex.nj.us/covid19
Grief & Loss Support Offered by Atlantic Health
Atlantic Health has an ongoing webinar on Grief and Loss Support occurring Wednesdays at Noon. Grief and Loss Support Flier
Coronavirus (COVID-19) Information:
NOTE OF IMPORTANCE:  Alcohol based hand rub should contain ethanol or isopropanol alcohol, not methanol alcohol. Methanol alcohol is a toxic alcohol and can cause blindness and/or death when absorbed through the skin or when swallowed. FDA Warning Regarding Hand Sanitizers
Flyer with Helpful Information/Reminders: KEEPING THE HOME SAFE
Flyer Regarding Employee Rights: Paid Sick Leave & Expanded Family & Medical Leave Under the Families First Coronavirus Response Act
DIY-cloth-face-covering-instructions
COVID_Face_Coverings
cloth-face-coverings-information
COVID-19 Emergency Response Resource Directory contains contact information for a varied amount of sources within the County, State and US such as: Hotlines; Social Services; Food Banks; Emergency Shelters; Senior Services; Veterans Services; Etc.
NJSP DMI COVID 19 RESOURCE GUIDE 042220
Additional Sources of Information
The NJ Poison Control Center and 211 have partnered with the State to provide information to the Public on COVID-19. The New Jersey Department of Health has a 24 hour Public Hotline for anyone with questions or concerns relating to COVID-19:
Call (General COVID-19 Questions): 2-1-1 (7am-11pm)
Call (Clinical Questions): 1-800-962-1253 (24/7)
Text: NJCOVID to 898-211 to receive alerts
Text: your zip code to 898-211 for live text assistance
In addition, the State of New Jersey created an online COVID-19 Information Hub which can be accessed at this website: https://covid19.nj.gov/
USDA Unveils Tool to Help Rural Communities Address the COVID-19 Pandemic. U.S. Secretary of Agriculture Sonny Perdue unveiled a one-stop-shop of federal programs that can be used by rural communities, organizations and individuals impacted by the COVID-19 pandemic. This is a first-of-its-kind resource for rural leaders looking for federal funding and partnership opportunities to help address this pandemic.
https://www.rd.usda.gov/sites/default/files/USDA_COVID-19_Fed_Rural_Resource_Guide.pdf
The USDA has taken many immediate actions to assist farmers, ranchers, producers, rural communities, and rural-based businesses and organizations impacted by the COVID-19 pandemic. For more information on these actions, visithttps://www.usda.gov/coronavirus
NJ Employment Opportunities Available:  https://jobs.covid19.nj.gov/
Click Here for Updates from NJ Homeland Security https://www.njhomelandsecurity.gov/covid19
Mental Health Services
If you are feeling stressed about the novel coronavirus and would like to talk with a mental health professional. The NJ Department of Human Services operates a toll free "warm line" which is a resource for people
seeking mental health service. The warm line is activated during events that impact the mental health of New Jersey residents. The warm line is available 24 hours and has language access; (877) 294-HELP (4357).
NOTE: The "warm line" does not replace 911 and is not used to report emergencies.
Mental Health Hotline: 866-202-4357
NJ Hopeline (Peer Support & Suicide Prevention Hotline): 1-855-654-6735
@NJVET@VET: 1-866-838-7654
*********************************
The NJ Business Action Center has put together a comprehensive list of COVID-19/Novel Coronavirus Information at cv.business.nj.gov for New Jersey businesses. Information categories (many updated daily) include:
Business Operations Guidance
Guidance for Employers
Economic Assistance for Businesses
Benefits for Impacted Individuals
General Information about COVID-19/Novel Coronavirus
Additional information from the State of NJ is available:
By calling the Helpline at 1-800-Jersey7
For written questions from businesses you can use the Chat Bot (located in the lower right corner of the page). Click the link and then chat with an expert. Someone will respond as soon as possible.
About the Board of Health
The Board of Health in conjunction with the Sussex County Health Department provides an array of health promotion and disease prevention programs such as male and female cancer screenings, skin cancer screening, blood pressure testing, and flu & pneumonia vaccinations. Environmental health services include inspection of restaurants and retail food vendors, inspection of public bathing facilities, free rabies immunization clinic, mosquito control and radon kits at a reasonable price. Animal control services are provided for stray dogs and cats, and other animal related concerns.
The Board of Health meetings are held on the 2nd Wednesday of the month at 7pm at the Stanhope Municipal Building at 77 Main Street.
Contacts:
The Stanhope Board of Health can be reached through the Board Secretary, Monique McNeilly, at 973-347-2435.  Or you can send an email to: health@stanhopenj.gov
The Sussex County Division of Health and Human Services Office can be reached at 973-579-0370 or through their website: Please click here for a full report on services provided by the Sussex County Department of Environmental & Public Health Services
Minutes:
View Minutes from Meetings of the Board of Health
PET LICENSES:
All dogs and cats residing in Stanhope Borough are required to have a valid license and current rabies vaccination.
Please submit your dog and cat license registration as soon as possible. Payment must be by check or money order, made payable to Stanhope Borough. You can send in the registration by mail or you may drop it off in the mail slot located on the front door of the municipal building.   The licenses will be processed and mailed back to you. If you have any questions, please contact the Clerk's Office.  2022 Pet Licensing Form
Radon Kits:
RADON KITS are available for purchase at Borough Hall. Radon occurs naturally and could be inside your home. Testing is important because radon can cause serious health problems like lung cancer. Testing is simple and inexpensive. Get started today.  Cost for Radon Kit is $10.00 (payable by cash, check or money order)
Helpful Information:
ACS Skin Cancer Prevention Tips
Measles Frequently Asked Questions 
Ticks and Lyme Disease Information
Lyme Disease Brochure